LaDonna Smith - violin viola voice
Violinist and violist, LaDonna Smith has been on the international improvising music scene for well over 20 years. She is an active performer and educator from Birmingham, Alabama, place where she was born and place where she chooses to reside and work out of... By performing and networking with other southern cities to bring improv to the people and through her work with the improvisor, she has been responsible for keeping improvised music alive in the South Eastern United States. Last summer,she was organizer and Director of the Birmingham International Improvisation Festival, which included five performers from Russia, one from Sweden, one from Ukraine and a host of regional and national participants in improvisatory disciplines ranging from music, theatre, and dance. LaDonna has created a style of improvisation on violin, viola and voice that is uniquely her own. Alternating classical and extended techniques, she explores the instrument, painting scenarios and sound pictures as she plays. She has performed at practically every major improv festival and many of the New Music Festivals. She has repeatedly toured Europe, playing solo and in collaboration with local musicians. In addition, she and guitarist Davey Williams have toured North America and Europe many times as Trans Duo. As musical partners, they maintain their own recording label, TransMuseq, and also co-edit the improvisor, the international journal of free improvisation. LaDonna has a long history of working with dance, and recent collaborations include work with NYC based dancer and choreographer Susan Hefner and Dancers. LaDonna is also a visual artist, whose surrealist drawings and ceramics have been exhibited nationally. She also loves teaching and practicing yoga, and believes the mind, body, spirit connection is the basis of her playing.
LaDonna Smith met Serguei Letov in New York City in 1990 when he was touring and playing the Knitting Factory during Perestroika. For a while they had corresponded and exchanged information, but then lost contact. LaDonna was invited to Kiev, Ukraine last May of 1995 and spent there three weeks performing and working with avant-garde Theatre. When Letov found out that LaDonna would be in Kiev through Russian sources, he came there to meet her and to participate in some of the concert events. This led to her returning to Russia in December 1995 at the end of her Western European concert tour to Belgium, England, Germany Holland and Denmark. When she arrived in Moscow to meet Letov, she was informed that they would be flying also to Siberia. Including two concerts in Novosibirsk (one of them - 'Deep Sea Divers' of Leonid Tishkov), one in Smolensk, four concerts and recordings at Moscow Studio, LaDonna and Serguei Letov teamed up to form genuinely remarkable duo. They also did a recording and performance project with the well-known gypsy singer Valentina Ponomareva. Letov' s stint in NYC with the actress Elena Antonenko makes it possible to invite him to the Southern USA for the concerts - Louisville, KENTUCKY, in Birmingham, ALABAMA and Chattanooga, TENNESSEE. In January 1997 LaDonna and Serguei Letov participated in SERGUEI KURYOKHIN INTERDISCIPLINARY MEMORIAL (SKIF) at Knitting Factory, NY in duo, the day after also in trio with Davey Williams.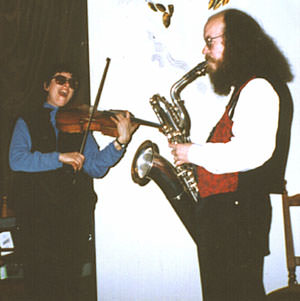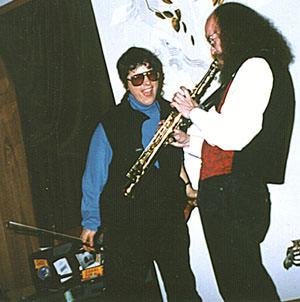 LaDonna Smith and Davey Williams are well known as two of the founders of the free improvisation movement in United States. Residing and active in Birmingham, they traveled the world wide performing over 1000 concerts in the USA, Europe and most recently Asia. LaDonna Smith is Associate Executive Editor of the improvisor, the international journal of free improvisation, now in its eleventh and most evolved issue, this year's edition formatted as a 200 page volume. LaDonna and Davey Williams also have the record label TRANSMUSEQ with 12 issues; and in all enjoy a discography of over 100 LPs, cassettes, and CD releases.
LaDonna Smith and Sergey Letov discography
dice 2 [she says]. Ishtar Records CD002/1996

Valentina Ponomareva. Forte. Boheme music CDBMR 904056
LaDonna Smith. Serguei Letov. Erogenous Soundscapes 014 CD-R
Recorded in Novosibirsk (live) and Moscow (studio)
LaDonna Smith (USA) - violin, viola, voice
Sergey Letov - baritone saxophone, soprano saxophone
Additional information:
Additional photos at letov.ru: