MARAL YAKSHIEVA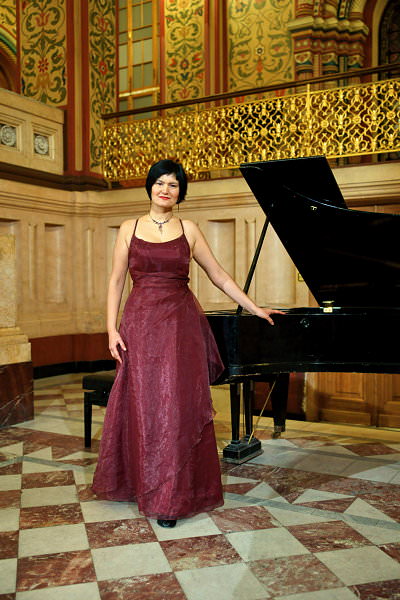 Maral is a tremendously gifted natural musician with a mastery of the piano and a solid understanding of various jazz and improvisational languages. She has a complete understanding of the contemporary music lexicon both in classical forms and improvisational practices and she is a compelling and versatile performer.
Matthew Shipp
Yakshieva, Maral (b. February 25, 1968, Chardzhou). Turkmen composer, now resident in Russia, of mostly chamber works that have been performed in Asia and Europe.
Mrs. Yakshieva studied music theory with Ludmila Osipova and piano with Konstantin Lykov at the College of Music in Chardzhou from 1983-87, where she graduated with a diploma of excellence in both subjects. She studied composition with prof. Redjep Allayarov and piano with prof. Orazgul Annamuradova. at the State Conservatory of Turkmenistan in Ashgabat from 1988-95 and there graduated with a diploma of excellence in both subjects. She then studied composition with Albert Leman from 1995-1997, on a scholarship from the government of Turkmenistan and music psychology with Maria Starcheus at the Tchaikovsky Conservatory in Moscow from 1997-98. She has also attended master classes in Austria and the Czech Republic.
Her honors include the Makhtumkuli State Scholarship in Ashgabat (1993, for excellent study), two honorary diplomas from the Ministry of Education in Ashgabat (1993, 1995) and three grants from the Open Society Institute in Moscow (1999 to attend Allegro-vivo Chamber Music Festival) and in Tashkent (1999, 2004 to attend the Ilkhom-XX festival). Her music and has been performed in Russia and Uzbekistan, including 1st and 2nd Festivals of Japanese Music in Moscow (1999, 2000), twice at the Moscow Autumn festival (2001-02) and in the halls of Ashgabat State Conservatory.
As a pianist, she has performed contemporary pieces and improvisations (solo and trio with Thomas Buckner – baritone and Olga Virezoub – piano) in the Ostrava days Contemporary Music Festival (Czech Republic) and Russia. She served as an accompanist at the Tchaikovsky Conservatory from 1995-98 and Ippolitov State Music College (Moscow) from 1998-99.
She taught music theory at the College of Music in Chardzhou in 1987-88 and taught piano as an assistant teacher at the State Conservatory of Turkmenistan from 1993-95.
CONTACT INFORMATION
E-mail address: maral_@hotmail.com
Telephone: + 7 095 326 6927
COMPLETE LIST OF WORKS
ORCHESTRAL (for 46 players): Concertino, piano, orchestra, 1995; Allegro concertato, violin, orchestra, 1997
CHAMBER MUSIC: Quintet, flute, oboe, clarinet, French horn, bassoon, 1995; Trio, violin, cello, piano, 1996; Kokorono ugoki - Movement of the Soul, percussion (1 player), 2000; Reflection and Burlesque, clarinet, 2001
CHORAL: Frivolous Songs (song-cycle, texts by unknown Japanese poets), mixed chorus, 1999.
VOCAL: Romances (song-cycle, texts by Igor Severianin for soprano and piano, 1995; Romance, text by Maria Dulse Loinas for baritone and piano,1995; Interpretations of Turkmen Folk Melodies for soprano and piano, 1995 (an arrangement); Romance, text by unknown Japanese poet for baritone and piano, 2000.
ELECTROACOUSTIC:
Stomatology, for sax, piano and tape, 2004. (mp3) Stomatologia Free improvisations:
Complete version of Maral Yakshieva - Anthony Braxton duo recordings will be issued late 2008 - early 2009 by Russian company SoLyd Records.
mp3 of performance at Moscow Autumn festival - quintet for 4 saxophones and piano | video and photos:
Next Performance:
January 22, 2012
Additional internet resources:
http://composers21.com/compdocs/yahshievam.htm
Interview with Roman Lednev, December 2006